Name: Gizmo
Gender: male
Dog/Wolf: German Sheperd
Affiliate: Stray
Rank: Uh...
Appearance: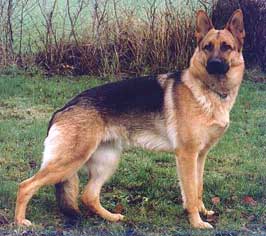 Personality: Good leader, strong, protective, smart, Gizmo always wanted to start a pack of loner/stray dogs, but has only Trinket.
History: Abandoned as a pup, Gizmo took the name his owners gave him before they left. It wasn't long before he met the little, spunky Yorkie, Trinket. Gizmo and her always stayed together, roaming the town.
Roleplay Sample: Gizmo quietly stalked into the Deli. He saw a piece of meat, easy to get to. He ran and jumped for it, and ate it whole. "Dinner." He muttered.
******************************
Name: Trinket
Gender: Female
Affliate: Stray
Rank: Er...
Appearance:
(When she was pampered, she had the long coat)
Personaility: Determined, acts bigger then she is, spunky
History: When she was younger, she was pampered and cared for by a rich family. When the mansion caught fire, she was devasted when her owner's died. Gizmo was the one who heard her whimpering while he was searching through a nearby dumpster. He rescued her and now always stays with her.
RP Sample: Trinket tried to keep up with Gizmo, as they were running from the dog-catchers. Gizmo jumped into a bush, and Trinket followed him, tripping over her feet a few times.